Behind the D4: 'Feed Me'
Behind the D4 is an interview series about the D4 films made by Film MFA Program students. After completing their Directing IV coursework, each student is required to direct a short final project, called the "D4 Film." Because of the COVID-19 pandemic, films that would have been filmed during the Summer of 2020, began shooting in September 2020.
Feed Me
After all the years they have been together, Charlie reveals to his wife Krista that he has been hiding his feeder fetish -- a fetish in which a person is aroused by their partner gaining weight. Suddenly, Krista has to choose between satisfying her husband or gaining a few pounds, contrary to her beliefs about healthy living and good shape.
Cast & Crew 
Writer & Director: Caitlin Ferrell
Producer: Tyler St. Pierre
Director of Photography: JD Gonzales
Production Designer: Elizabeth Grupp
Cast: Katie Northrop Niday, Pat Niday
On Zoom Production Design
Elizabeth Grupp: I couldn't see the whole room, and I couldn't see the framing, so we had to spend some time showing me the room from different angles to figure out what is where. But that was not the most challenging part. It was having to use my words and not be able to move things physically. It's frustrating. And I didn't get frustrated with the person, but with trying to put into words what I need them to do. For example, my right is not their right, and things like that. Differentiating colors through the Zoom camera was also problematic because the color you see is probably different from the color it really is.
Tyler St. Pierre: We would usually wrap at the end of the day, around 10 pm, and then we would call Elizabeth, who was in New York, and she would help us set up for the next day. It was incredible! 10 pm in Denver is midnight in NY, and she would be ready on her phone, and sometimes we would talk for an hour or two. She was definitely the hero of the movie.
Caitlin Ferrell: She did everything virtuality, which was pretty incredible. Usually, after we wrapped for the day, we would prepare for the morning's scene. And I would literally have Elizabeth on my computer on Zoom, asking all sorts of questions about the room, curtains, colors, etc. She would then tell me where to move things and fix them if something was off at the location. On the other side, that slowed us down a little, but we couldn't have more than seven people on set, which is why her role was super important.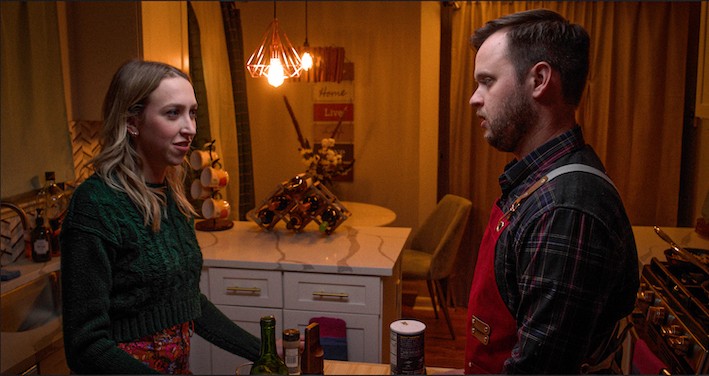 On the Food / Sex Scene
Caitlin Ferrell: The food was like its own character, so we had to keep reheating the food, and in one moment, it became really gross. And then we had that sex scene, when two of them were in their underwear, trying to look sexy, and he was feeding her with that food - that part was just so disgusting! They were also a real-life couple, which was even more fun and challenging to stay focus and not laugh.
Katie Northrop Niday: There was some gross canned gravy that we put on top of some food we were using in the sex scene. It was honestly disgusting, and Pat had to keep putting it in my mouth for different takes, and that was definitely something that I could say I've never done before. It was hard not to laugh at it, especially when Caitlin was sitting in her corner, giving directions: "put it in her mouth!" Having to play that much with food in my underwear was pretty wild, especially with many people around me.