The American Academy of Arts and Letters Honors Professor Phillip Lopate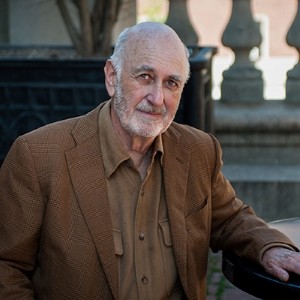 The American Academy of Arts and Letters announced the recipients of its highest honors for excellence in the arts, and Professor Phillip Lopate '64 (CC) is among the honorees.
Born in Brooklyn, New York in 1943, Lopate received his BA from Columbia University in 1964 and a doctorate from the Union Graduate School in 1979. His bibliography is extensive, his works ranging across personal essay collections, novellas, poetry collections, a memoir of his teaching experiences, movie criticism, critical studies, and more. His latest anthology, The Glorious American Essay: One Hundred Essays from Colonial Times to the Present, was released on November 17, 2020 by Pantheon Books. Lopate spoke with The National Arts Club about his latest work and the power of essay, which you can view here.
Lopate has been selected to receive the Christopher Lightfoot Walker Award of $100,000 in recognition of his significant contribution to American literature. The biennial award was established through a bequest by Amber Lightfoot Walker, a devoted patron of the arts, to memorialize her son.
"I was astonished when I received this award out of the blue," Lopate said. "On the one hand, the megalomaniacal side of me thought, of course I deserve it, I have certainly given a lot to American literature, particularly through my championing of the essay form. The pragmatic, humbler side of me thought, just because something is said to be 'well-deserved,' as my friends keep telling me, doesn't mean it is meant to happen. The long and short of it is that the award has been very validating, and now I walk around as if with an invisible poncho on my shoulders protecting me from rain and rejections…Certainly, the money helps, but even more [important] is the recognition from my peers of a lifetime of good work."
Phillip Lopate is a central figure in the revival of the American essay, both through his ubiquitous edited anthology, Art of the Personal Essay, and his own essay collections, Bachelorhood, Against Joie de Vivre, Portrait of My Body and Portrait Inside My Head. He is also the author of such book-length nonfiction works as Being with Children, Waterfront, Notes on Sontag, Rudy Burckhardt: Photographer, and A Mother's Tale. Additionally, he has written books of fiction (Confessions of Summer, The Rug Merchant, Two Marriages) and poetry (At the End of the Day). Finally, he has edited other anthologies (Writing New York and American Movie Critics), and most recently published a three-volume historical anthology of the American essay (The Glorious American Essay, 2020). A member of the American Academy of Arts and Sciences, a winner of Guggenheim, New York Public Library, and National Endowment for the Arts fellowships, he is on the faculty of Columbia University's Graduate Writing Program, School of the Arts.