Alumnus Baba Badji '15 Publishes 'Ghost Letters'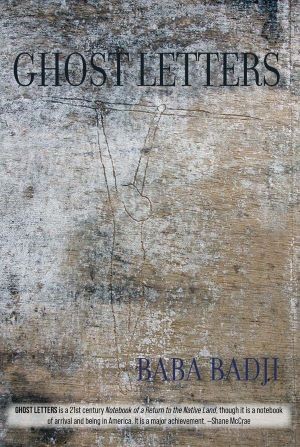 Ghost Letters, a collection of poetry by alumnus Baba Badji '15, was released by Parlor Press on January 1, 2021. Excerpts from Ghost Letters can be found here. 
Using his own deceased mother as a guide, Badji infuses his poetry with the voice and presence of a ghost mother who haunts his winding lines and blocks of prose-like text. The volume explores Badji's memories of Senegal and his identity as Senegalise, American, and Black. Violence, culture, exile, history, and African myth weave together in Ghost Letters to become what alumna Mary Jo Bang '98 calls a "surrealist landscape—blurred beginnings, sorrowful endings, archetypes tangles in the roots of trees—where everything is held together by a speaker who is reading letters culled from a just-opened time capsule." 
Ghost Letters has received high praise from distinguished faculty as well. According to Professor Timothy Donnelly, "France's colonial rule casts a long shadow over Senegal, where the official language of the state and educational system remains French, despite the fact that only twenty percent of the male population regularly speak it, and as little as one percent of the female. The poems in Ghost Letters, written partly in French, partly in Wolof (Senegal's most widely spoken language), and predominantly in English, both reflect the poet's multi-linguistic background and, more importantly, contend with the historical, cultural, racial, and personal traumas that inform that background. 'I am trying to recover from stings poisoning my tongue,' Badji writes, 'I am trying to recover from a disease whitening my black skin.' With its startlingly urgent, affect-laden verse and prose, Ghost Letters is a rare achievement—one whose formal complexity demonstrates not only the poet's remarkable technical skills, but survival skills as well."
Assistant Professor Shane McCrae said, "In Ghost Letters, one emigrates to America again, and again, and again, though one also never leaves Senegal, the country of one's birth; one grows up in America, and attends university in America, though one also never leaves Senegal, the country of one's birth; one wrestles with one's American blackness in ways not possible in Senegal, though one never leaves Senegal, the country of one's birth; and one sees more deeply into Americanness than any native-born American could. Ghost Letters is a 21st century Notebook of a Return to the Native Land, though it is a notebook of arrival and being in America. It is a major achievement."
Read a short poem from Ghost Letters below. 
SEED 
by Baba Badji
When I die in Africa, the device for nursing
a sick goat & my traumatized skin must be endorsed like
Master's allegiance for whipping me. Knock knock whose there? Milkman. 
He deadens my grief done by raw paths of arrival. 
Sick goat was not more African than I (spare you from death!)
Of Senegalese exotic weeper, a haunting sob is better
then a bamboo flute's crying to ghosts from the Nile. 
One kind of tradition. Fistfuls of mud. Kankourang's mask. 
Ah! the broken promise & the ruined results! 
In my immaculate kaftan, mother gives me milk. 
It was August. Circumcised beside the river. In the burning sun. 
Ô! I declare, possibly being oriental is safer. J'ai l'impression
d'être déraciner. I would want to see dry blood in my gaping
wounds caused by a stung master in plantation meadows. 
Baba Badji is a Senegalese-American poet, translator, researcher, and PhD candidate in Comparative Literature at Washington University in St. Louis. He came to America when he was eleven years old. He currently lives in St. Louis, but his permanent home is Senegal, where his extended family remains, and New York City. His research and teaching interests center on the links between the various forms of postcolonial studies literature and theory, with a particular focus on the debates for cultural, translation, literary and Négritude in Anglophone and Francophone cultures. His work has appeared in Europe Now, Free Verse Editions, Transverse Journal, Snapdragon Journal, Foothill Journal, and elsewhere.