Alumni Spotlight: Daniel Fermín Pfeffer '18
Daniel Fermín Pfeffer '18 is an award winning Mexican-American filmmaker. He earned a BFA from NYU's Tisch School and an MFA for Screenwriting and Directing from Columbia University. His short film, While I Was Gone screened at various festivals and won the Denver Film Festival Domestic Student Award. His first feature, I'll See You Around, premiered in 2019 at the Los Angeles Latino International Film Festival.  I'll See You Around has since been picked up for distribution by Breaking Glass Pictures.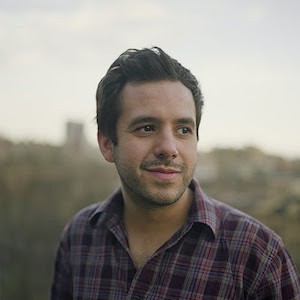 His first minisodic directorial effort, Chosen, premiered at the Catalyst Story Institute/Content Festival winning several awards and at the Austin Film Festival. His latest feature script, Brujería, combines social justice with psychological horror. It is about migrant farm workers who face violence and discrimination in upstate New York. Brujería is an official selection for Columbia University's annual Blue List (2020). In May of 2020, Daniel's commissioned music video, Hold That Weight  received a Vimeo Staff Pick and is considered the third installment to his ongoing film work with childhood friend, Lucas Monroe.   
Daniel has taught at Columbia, Ithaca College, NYU, and Northwestern. Starting in the fall of 2021, he will begin his visiting assistant professorship at Cornell University to teach screenwriting and directing for the Performing and Media Arts Department.
Was there a specific faculty member or peer who especially inspired you while at the School of the Arts? If so, who and how?

It was inspiring to connect with the activist and artist, Jamal Joseph, and furthermore to have him as my thesis advisor. I was inspired by the deep conversations we would have about life beyond Columbia along with Professor [Jamal] Joseph's thoughtful attention to my writing and films. I believe this creative push and reinforcement was key for me when it came to graduating with a confident portfolio. Another professor who changed my life was Eric Mendelsohn. Professor Mendelsohn broke down how to direct a film in ways I had never thought of before, while reinforcing some of the skills I came with, and the combination pushed me to new levels in my filmmaking.

How did attending the School of the Arts impact your work and career as an artist?

School of the Arts taught me how to truly be a productive working artist, how to multi-task effectively with creative projects. Getting to be a full-time artist while learning from amazing faculty and peers prepared me to re-enter the industry from a different perspective. Without the SOA training and time spent on my craft, I would not be the same working artist I am today. In many respects as an independent writer and director, SOA prepared me to thrive as an artist working alongside the industry but not for it.  

What were the most pressing social/political issues on the minds of the students when you were here?

Lots of social and political issues took hold during my years at SOA. There was the "MeToo" movement which first exposed the film and media industry in its predatory behavior. This was a time of unlearning from what we were conditioned to believe and the culture many of us grew up in. Just before the "Me Too" movement exploded Columbia was having its own internal issues with students as well, which served almost like a microcosmic precursor to what was about to happen to our nation and eventually the world. Then in 2016 meltdowns occurred all over campus when Trump was elected president, everyone was in utter shock. I remember even some classmates were so disturbed they called off script revision class to recoup from the blow. This new reality certainly stirred many of us as grad students to think about how our stories and films were to confront this new political reality. However, one couldn't have fathomed how a few years later we'd be dealing with COVID, a true unveiling of our society's disparities.

What was your favorite or most memorable class while at the School of the Arts?

One of my fondest memories was script revision with professor Trey Ellis. The students in the class all took the readings and feedback seriously and we all saw graduation on the horizon. With that said, the atmosphere was tough but constructive, challenging but truthful. Professor Ellis is a generous reader and was always engaged with the students in that revision class. I believe most of us walked away from that particular semester inspired, and ready to tackle the industry as creatives.

What were the first steps you took after graduating?

Immediately after graduation I was flown to Detroit to direct a short period piece titled One Sweet Night starring JD Williams (The Wire ). This was challenging on many levels and taught me further how to direct projects for hire and handle a range of personalities, especially in the sense that this wasn't my own passion project, I didn't necessarily hand pick everyone I wanted to work with. I also immediately applied for adjunct positions in cinema production and screenwriting and landed my first teaching job outside of Columbia at Ithaca College. This first contract allowed me to find other teaching opportunities that I feel compliment the independent writer/director lifestyle well.

What advice would you give to recent graduates?

When applying to jobs, grants, labs and so on, stop to ask yourself what your true intentions are. Then figure out if that's the path you want to take for your bigger goals and dreams. In other words, is that the path for you? I feel many of us scramble to get any paid job in the industry, but we don't stop to think if it's actually in line with what we want in the long run. Just because you work for a high-profile producer, doesn't automatically guarantee you a spot at the creator's table. Working smaller projects where you have more autonomy in how you go about a project and what you're actually doing for the project, and what you're learning from it, can be more valuable than being some high-level person's assistant.