Alumni Spotlight: Amy Talkington '99 (BC '93)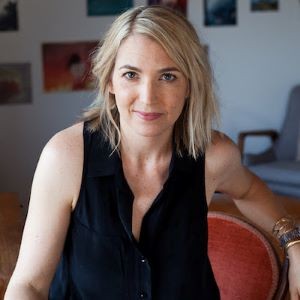 The Alumni Spotlight is a place to hear from the School of the Arts alumni community about their journeys as artists and creators.
Amy Talkington '99 is an award-winning screenwriter, director, and author. Amy wrote Valley Girl (MGM's musical remake of the 80s cult film, released May, 2020) and Undercover (currently in pre-production at Lionsgate with Steve Pink directing Zachary Levi and Cole Spouse). She has written numerous other studio features that are in various phases of development, including All Night Long currently in active development at Netflix, with Doug Wick and Lucy Fisher producing.

In the television arena, Amy has developed pilots for network, streaming, and cable. She was a co-executive producer and writer on Hulu's Emmy-nominated hit series Little Fires Everywhere, starring Reese Witherspoon and Kerry Washington, who also executive produced. And she is currently adapting Lawrence Wright's book Saints and Sinners into an anthology series for HBO-Max.

Previously, Amy wrote and directed the independent feature film The Night of the White Pants as well as five short films which won multiple awards (including Best Student Short from Austin Film Festival) and played festivals all over the world, including Sundance.

Before making films, Amy wrote about music and film. She has written for Spin, Mademoiselle, College Music Journal, Interview, Seventeen and Ray Gun Magazines.

Originally from Texas, Amy graduated magna cum laude from Barnard College with a degree in Art History and earned an MFA in Film from Columbia University.
Was there a specific faculty member or peer who especially inspired you while at the School of the Arts? If so, who and how?

How can I possibly pick just one!? First, Maggie Greenwald was my directing mentor. In our first directing class, she showed us her noir film, The Kill Off. I loved it. And frankly just to have a woman director standing before me, especially one who'd made such a dark film, had a profound impact on me – women can do this, women do do this! Maggie had me relentlessly prep my first film Number One Fan and encouraged me to go outside the Film Division for my cast and crew. It all paid off. The film went on to play many festivals, even winning the top prize at the Hamptons Film Festival, and I developed a relationship with cinematographer Jim Denault and actors Aleksa Palladino and Glenn Fitzgerald, all of whom came on board for my thesis film Second Skin. 

My screenwriting mentor was Lewis Cole, who was also the Chair of the Film Division at that time. He taught me the rules of screenplay structure. I came to Columbia with a visual arts and art history background, so I really needed to learn those nuts and bolts. But what he really taught me was to be empathetic and vulnerable, in writing and in life. I remember once there was a student revolt over the "Faculty Selects" selection process, one that he'd gone to great efforts to make as fair as possible. Hearing of the unrest, he immediately called a meeting and stood on stage in front of the angry mob. He patiently listened to all the students' complaints and, instead of being defensive, he nodded and talked about his own professional rejections and failures, saying he deeply understood how they felt and how much it hurt. He even cried. I'll never forget that day – his empathy, his vulnerability – and all there was for us all to learn in that moment.

And finally, the incredible, Milos Forman. Milos was one of the reasons I picked Columbia. Even though I knew he was no longer teaching, the fact that he had been a part of creating the Film Division made Columbia my first choice -- that's how much I loved his films. And then, the year that I was completing my thesis, he offered to mentor a student and, shockingly, they chose me. I sent him a rough cut of my short film Second Skin (on ¾" video!). He watched it and then I was summoned to his home-office on Central Park South. When I arrived, thrilled and terrified, I found him sitting at his massive desk, watching my movie on his big screen TV. I stood by awkwardly as he watched the end of the film and I will never, ever forget that moment -- watching Milos Forman watch (and enjoy!) my film. It was probably the highlight of my film career. And then we watched it again together – stopping and starting – and he gave me his thoughts on the edit: ten frames more here… ten frames less there. They seemed like such tiny notes but I ran back to the editing room and tried his suggestions and, of course, he was right. Those "tiny" notes made all the difference and that was a great lesson in editing. He was a master and having him a part of my thesis film was the greatest privilege and honor.
What were the first steps you took after graduating? 

Well, I had kind of a fairy tale story. Fellow Columbia student, Simon Kinberg, was interning for Ira Deutchman's company Redeemable Features (yes! He'd already sold Mr. and Mrs. Smith but was also interning for Ira). They had optioned a Rolling Stone article called "Diary of a Mad Freshman" and Simon, who was a fan of Second Skin, pitched me for the adaptation. I was obsessed with the article and they attached me to adapt it and direct it – it was my first "assignment" but it was not Guild (and not paid). But…. as I was working on that adaptation, Second Skin screened in Los Angeles as a part of the Faculty Selects. And sitting in that audience was a young agent who loved my movie (yes! Executives and agents actually used to go to theaters to watch our short films!). I got a call from her the next day, we met. And, while I had no intention of signing with an agent just yet, I liked her and I signed (she's still my agent, by the way). Soon I made a trip back to LA to have some general meetings. I had no idea what I was supposed to do in those meetings, so I just babbled on about my crazy family and by the end of my first day I had a "blind pilot deal". I didn't know what that was, but it was WGA (which means it paid and got me into the Guild). So, right out of the gate, I had an indie project that I was attached to direct and a Hollywood paid gig.
 
Now, that said, things didn't move so smoothly afterward. Diary of a Mad Freshman never got made – though it came close – and the pilot I wrote for my "blind deal" didn't get shot, but those projects got my foot in the door for both features and TV.
What advice would you give to recent graduates? 

Well, I think it goes without saying that you need to work all the time and keep working. And then work more. And you need to find a healthy way to deal with the near constant rejection. Ideally you find a way to learn from the rejection and make your work stronger for it. But the advice that I really needed to hear was "slow down, pace yourself and stay focused on the kinds of stories you want to tell". I was in such a huge hurry to make my first feature that I constantly beat myself up that it wasn't happening now. And by the time I was finally able to make that first feature, I was already burnt out and a little desperate. I don't mean to say that you don't need hustle and drive – you do! – but you also need to step back and keep an eye on the big picture. Have a vision of where you want to be – the kinds of stories you want to tell – and methodically work towards that. You've got to remember that you're building what is, hopefully, a lifelong career. And you can take some time to get to your end goal. I know, because I'm still working on it!