Alumna Nadja Verena Marcin '10 Featured in Solo Show #SOPHYGRAY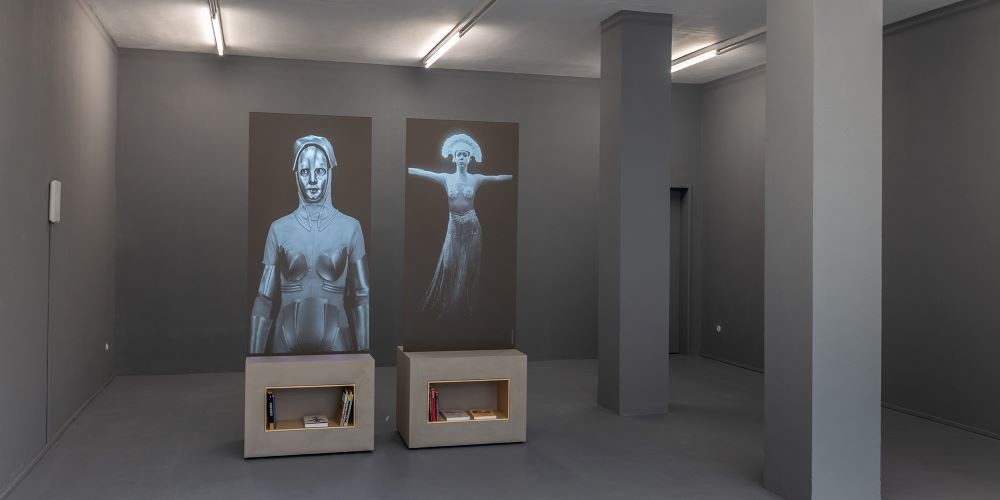 Alumna Nadja Verena Marcin '10 is featured in the solo show #SOPHYGRAY at Kunstverein Ruhr in Essen, Germany. Curated by Peter Friese, this show will be available for viewing until February 13, 2022. 
In this exhibition, Marcin has created an installation which questions what femininity means in the 21st century through a discussion around Artificial Intelligence (AI) and technology. This performance centers around an audio bot named #SOPHYGRAY that was developed by a team of researchers from disciplines such as sociology, computer science, and literature. 
The cutting edge audio bot has been trained by its creators to have conversations about feminism, identity, and art. It even has the ability to engage in small talk with museum-goers. Excerpts from the texts of famous feminist theorists like Audre Lorde and Donna Haraway make up the bot's knowledge on the subject. Created as a critical reflection on other chatbots such as Alexa and Siri, #SOPHYGRAY reveals the shortcomings of AI especially in the realm of emotion. 
The audio bot is part of a spatial installation that is inspired by feminine robots in movies such as Metropolis, Ex Machina, and Westworld. This installation features two holograms or projections that undermine the motifs of the robot. 
#SOPHYGRAY reveals clichés and ingrained patterns of language in AI, thereby making the unconscious bias integrated into these technologies clear. The importance of technology in everyday life, as well as the use of women, or female voices, in new smart technologies, come to the forefront in Marcin's installation. 
Marcin was born in Würzburg, Germany and is based in Brooklyn, NY. She is a performance and video artist, filmmaker, and writer who explores gender, history, morality, psychology, and human behavior via an intersectional analysis of feminism and emotional architecture within a theatrical and cinematic context. Her work  has been featured in Texte zur Kunst; Art Forum; VICE Creator's Project; Huffington Post; Interview Magazine; and Artnet News amongst others. She has taught and lectured at Wellesley College, International Center for Photography, University of North Carolina Chapel Hill and Greensboro, State University of Santa Cruz, City College of New York, PI Art Center and Brooklyn College. Marcin is represented by AKArt in San Francisco and 532 Thomas Jaeckel Gallery in New York.