Behind the Scenes: Tina Chang '19, Theatre Producer
Behind the Scenes: A series of articles featuring theatre makers from the other side of the stage 
October 30, 2017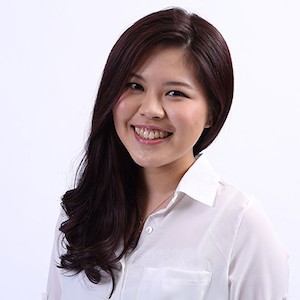 As a global citizen who has lived in Taiwan, Thailand, Japan, and the United States, Tina Chang '19 is interested in theatre that explores issues of complex identities, cultural integration, and stories that reveal surprising perspectives. She has recently completed internships at Broadway San Jose, City Lights Theater Company, and Bond Theatrical Group. Prior to starting her MFA studies in Theatre Management & Producing at Columbia University, Tina was the Marketing Manager of Performance Workshop, Taiwan's leading theatre company led by Artistic Director Stan Lai. She was responsible for advertising, media relations, group sales, and membership services. Tina also served as the front-of-house manager for domestic and international tours. Notable productions include The Village, A Dream Like A Dream, and Secret Love in Peach Blossom Land. She is a graduate of Waseda University in Japan.
How would you describe the role of a theatre producer?
I always get a lot of ooh's and wow's when I tell people that I'm getting a MFA in theatre management and producing but most of the time, that response implies confusion. I would subsequently explain that the degree is similar to a MBA but every case study is about theatre. After all, theatrical performance is a product and the producer is the CEO that produces that product. And just like every other product that goes into assembly and production, our product is created with components such as actors, sets, costumes, lights, sounds, movements and text. Each component must be designed, sourced, and managed to ensure that the design serves the purpose of the product and that it is produced efficiently. As the CEO of the operation, the theatre producer oversees the process and makes decisions based on the budget, contracts, production schedule, staffing, marketing, sales, and the customer experience. The producer is not only the gatekeeper of the cost and quality of the product, but also a key creative in shepherding an idea into fruition. 
 
Could you tell us about your background and how you decided to study Theatre Management & Producing? 
When I was ten, my family moved from our suburban town in central Taiwan to the metropolis of Bangkok. I studied at the International School Bangkok for 8 years. We were required to learn a musical instrument in 5th grade. I (or maybe it was my mom) chose the flute because  "flutist" has an elegant image and the instrument is easy to carry (no, I'm not kidding). I continued my enrollment in the school band all through high school.
I was never really dedicated to practicing so I knew that I was never going to make this a living. Still, I wanted to be affiliated with the performing arts because I really enjoyed being in the room. Through my private flute teacher, I made my first attempt at arts administration during the last summer of high school and interned at the Thailand Philharmonic Orchestra. Over the two month period, I worked on 4 concerts involving foreign artists. I felt a great sense of pride knowing that I helped make the performances possible.
I was certain that I wanted to keep exploring the managing of the arts but didn't have the resources to guide me to study in this field. I ended up applying as a business major for universities in the US. Luckily, I also applied for the School of International Liberal Arts at Waseda University in Tokyo, one of the top 3 prestigious private universities in Japan. I wanted to study in Japan because I had been studying Japanese as an elective since 7th grade (we were required to take a 2nd foreign language in middle school). The flexibility of the liberal arts curriculum allowed me to build up the skills and knowledge I needed to be an arts manager. I took courses in corporate governance, economics, popular culture, media studies and most importantly, American drama and musicals. That course opened the door to theatre for me. I subsequently took the opportunity to study abroad at Georgetown University in my 3rd year where I created theatre for the first time.
I couldn't get enough of theatre. After my exchange program ended, I decided to take a semester off and interned at theatre companies in New York for another 9 months until my visa expired. I learned about marketing subscriptions at New York Theatre Workshop, the merchandizing branch of commercial Broadway at Marquee Merchandise, and the in's and out's of producing international projects and off-Broadway at Town Square Productions. The wide-ranging skills I accumulated both from academic training and hands-on internships allowed me to quickly ascend to a Marketing Manager position at Performance Workshop, a leading theatre company in Taiwan, right after graduation.
At Performance Workshop, I worked on both local touring and international engagements in Singapore, Hong Kong and the US. My responsibilities included advertising, press and publicity, membership, groups sales, social media marketing, and front-of-house management. After three years, I was not sure whether this was the track that I wanted to continue. I felt that there was still so much more in theatrical producing that I have yet been able to fully comprehend, such as production, artistic development, and finances. I decided that a graduate education specifically devoted to management for the theatre is what I need to move onto the next stage of my career.
 
Is there a theatre production that blew your mind and inspired you to be a part of the industry?
The theatre production that inspired me to be part of the industry was not a show that I saw but the first production that I worked on at Georgetown. I was the assistant stage manager for Gross Indecency: The Three Trials of Oscar Wilde. I had witnessed the growth of these student actors from the first week of rehearsal as they struggled with the script to opening night where they put on a spectacular performance. The feeling of immense gratification was all that was needed to affirm my passion for being the invisible support of meaningful and thought-provoking theatre (even though I was seated in a tiny black box where I couldn't even see the stage while operating the sound cues).
 
You've lived in many different countries and among varying cultures, how does that relate to your work as a Theatre Producer and the things that you want to do in the future?
It's funny to realize now that my career has stemmed from the academic requirements at International School Bangkok. If I wasn't forced to learn a musical instrument, I probably would not have such a strong passion for performing arts. And if I didn't pick up Japanese as an elective, I would not have gone to Waseda University where I encountered theatre for the first time. The international school upbringing has really challenged me to venture into places that I otherwise would not have.
It is also this experience of being immersed in multiple cultures at once that attracts me to issues of identity and cultural integration. I believe that each one of us has a number of roles in society and separating people for being X and Y on one set of terms is completely insensible. I grew up with peers who come from all over the world so it is inherent in me to embrace differences and adapt my behaviors accordingly. I understand that it is difficult for many people to do so innately but we must try in order to coexist. I want to produce theatre that enables us to view differences with more understanding, sensitivity, respect and alternative perspectives.