Behind the Scenes: Bethany Sharp, Theatre Producer
A series of articles featuring theatre-makers from the other side of the stage. 
November 06, 2017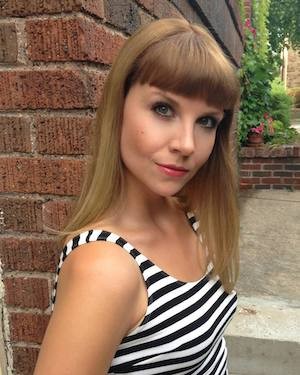 Bethany Sharp '19 was born and raised in Kansas where she attended undergrad, receiving her Bachelor's Degree in Theatre Performance from Southwestern College. Bethany became a major city hopper over the next few years, first moving to Los Angeles to study at the Stella Adler Academy of Acting in Hollywood. While in LA, Bethany discovered a love of curating and directing theatre. She then moved to the Houston, TX for a stint, followed by Minneapolis, MN where she co-founded Box Wine Theatre in 2008 with Adam Sharp. As Producing Artistic Director, Bethany wears many hats in her company – aside from producing, she often holds roles as production manager, general manager, director, set and costume designer, and occasionally playwright and actor. While in the Twin Cities, Bethany also did freelance work as a director, sketch writer, and actor with other theatre and production companies. In 2014, Bethany came to NYC along with Box Wine Theatre and continues to do Box Wine programming in the city while she completes her MFA in Theatre Management and Producing at Columbia. Bethany has interned in the Accessibility and Marketing departments of TDF as well as the Development Department of Primary Stages. She also currently holds the School of the Arts Student Coordinator positions of Marketing Assistant and Playwright Festival Fellow. Bethany's goals for the future are to continue to grow Box Wine Theatre into an Off-Broadway entity and to work on the administration side of other not-for-profit theatres.
You have a theatre company with your husband. Can you tell us about what you guys do and what inspired you to create this company? 
Adam and I met in undergrad and have both been socially and politically active since our teens. We originally saw our theatre company as a way to do the type of programming we personally wanted to work on. We believe that human nature can be best represented by looking at its flaws and we wanted to illuminate those flaws in a light that embodies the comedy and tragedy in the world today. We wanted to create a meaningful experience for our audience that encourages conversation and challenges mainstream norms and opinions. Finally, we wanted the message of our work to speak more loudly than the spectacle that can come with creating theatre. While there is definitely a meaningful place for high-budget theatre with spectacular sets and costumes, the goal of Box Wine Theatre programming is to forgo a high budget in order to spark innovation in its artists.
We decided early on that we didn't want our company to be simply a series of vanity projects and realized that if we were going to make a life out of this, our programming needed to have some connection to our social convictions and activism. We're both passionate about social justice, exposing inequality, and advocating science and education. There comes a point when many artists ask themselves "Is what I'm doing enough?" We're not curing cancer or saving the rain forests or even making sure that people have clean water, so what can we do with our skill sets in the arts? For us, the answer is that we use our art as an extension of our activism and aside from our low budget rulebook, Box Wine Theatre quickly became dedicated to creating theatre about social standards and inequality. We've done productions (mostly satire) with themes encompassing the economy and socioeconomic class, religion and its relationship to major movements in society, LGBTQ+ rights, and an annual 10-minute political play festival called Raucous Caucus.
 
What are the challenges and advantages of working with your life partner? 
Finding a work/life balance is probably the biggest challenge. We'll go out for an evening as a couple and then find ourselves spending date night talking about theatrical financing and season planning. We'll also be in an official Box Wine Theatre meeting and get derailed over the latest season of Stranger Things or a conversation about which relatives we'll be spending holidays with. We've found that we have to clearly define all of our interactions as "Us Time" or "BWT Time" but we aren't always successful.
The other major factor in our relationship is our roles in BWT. Currently, my title is Producing Artistic Director and Adam's is Associate Artistic Director, so I'm sort of the superior staff member, but we're both founders so decisions are unanimous. We've found a successful method (at least for now while we still have minimal staff) of putting the decision-making process into a couple of steps: funneling first through Co-Founders, then delegated to the appropriate people.
 
What's your favorite piece of theatre and why? 
My favorite piece is one most people probably haven't heard of and my reasoning is because of the theatrical process more so than the script (though I do love the script as well). The piece is titled Dali's Liquid Ladies by Savannah Reich. To my knowledge, it's not yet published. It's a surrealist comedy set in the 1939 World's Fair based on the real-life funhouse created that year by Salvador Dali, who employed actresses and models to pose as mermaids and other creatures in fantastical tableaus. The play was produced originally at Bedlam Theatre in Minneapolis and it was the way it was produced that amazed me. The only set was a backdrop and some blocks and the lighting was almost completely controlled by the actors onstage, using bare hanging Edison bulbs with pull-strings or flashlights as their own personal spotlights. The budget was only about $1,000 and I identify seeing this work as a defining moment that helped me realize not only what kind of theatre I wanted to do, but what theatre could be. I loved this production so much, that a few years later, we commissioned the playwright to do a second round of rewrites and Box Wine produced the second incarnation of the show in 2012.
 
What is the thing you like the most about being a Theatre Producer? Is there anything that you hate the most?
First and foremost, I enjoy planning and curating a season. I love reading new plays, but I'm also a bit of a nerd about scheduling and budgeting and can find spending hours creating calendars and budgets in Excel as creatively rewarding as making art.
I wouldn't say I hate it, but the thing I find most challenging is fundraising. I'd always rather write a grant than do a fundraising campaign but there are only so many grants to go around. I enjoy planning special events but actually asking for and raising money is something I've always felt awkward about. There's always an element of uncertainty behind filling the financial gap for a production, even on a low budget, especially in New York with so many amazing not-for-profit companies vying for much of the same funding and audience support.