Professor Katrine Øgaard Jensen Wins Kjeld Elfelt Memorial Grant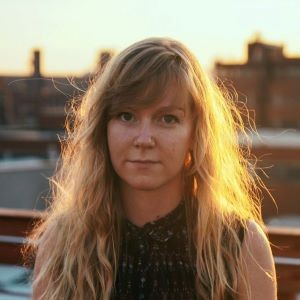 Trailblazing translator, Adjunct Assistant Professor, and alumna Katrine Øgaard Jensen '17 has been honored with Denmark's prestigious Kjeld Elfelt Memorial Grant. 2022 is the final time the grant will be awarded. 
Danish translator and literary critic Kjeld Elfelt created the grant with a bequest upon his death in 1993, with the mandate that it be awarded to "a younger translator who has translated significant works of fiction with joy and imagination." 
Born in 1902, Elfelt himself made major contributions to popularizing Danish poetry in Sweden, and helped make Swedish literature widely-known in Denmark. The grant is distributed by the board of the Association of Danish-English Literary Translators (DELT.)
Øgaard Jensen has received acclaim for her translations of Ursula Andkjær Olsen's trilogy of poetry collections, Third-Millennium Heart (Broken Dimanche Press/Action Books, 2017,) Outgoing Vessel (Action Books, 2021) and My Jewel Box (Action Books, 2022.) Her work on Third-Millennium Heart was the recipient of the 2018 National Translation Award in Poetry. 
"I like the idea of opening a poem to new possibilities for language and imagery in translation rather than confining the poem to something that can only lose in translation," Øgaard Jensen said in an interview with the Harvard Review, "This was my approach to translating Third-Millennium Heart as well—letting the text evolve in translation—and Ursula has been completely on board with this strategy from the very beginning of our collaboration."
Øgaard Jensen and Andkjær Olsen presented a series of 'mistranslations' of Andkjær Olsen's work, which appeared in the Berkeley Poetry Review and Word Art in 2018, and in BOMB magazine in 2021. These mistranslations involved running Andkjær Olsen's lines through a series of online poetry generators, and editing 'to keep the original form' as much as possible. 
"It brings both relief and pressure to have this freedom in translation, but along with risk comes play," Øgaard Jensen told the Harvard Review, "and I honestly believe that Ursula's poetry can only really be experienced in translation by way of a mischievous process."
This playful, deconstructionist sensibility demonstrates Øgaard Jensen's innovative approach to translation as an artform. Her work embodies the values of 'joy and imagination' in translation envisioned by Elfelt, and makes her the ideal final recipient of the grant and its legacy.
Katrine Øgaard Jensen is a writer and translator from the Danish. She is a recipient of several fellowships and awards, including the Danish Arts Foundation's 'Young Artistic Elite' Fellowship in 2020 as well as the 2018 National Translation Award in Poetry for her translation of Ursula Andkjær Olsen's book-length poem, Third-Millennium Heart (Broken Dimanche Press/Action Books, 2017). Her translation of Ursula Andkjær Olsen's Outgoing Vessel was published by Action Books in March 2021. A founding editor of EuropeNow and a former blog editor of Asymptote and Words Without Borders, she has served as a judge for several international literary awards, including the PEN Award for Poetry in Translation and the Best Translated Book Awards.