Playwrighting Student Alaudin Ullah's 'Dishwasher Dreams' Featured at Hartford Stage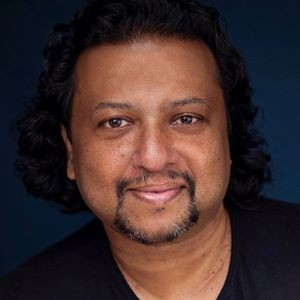 Playwriting student Alaudin Ullah's singular play and one-man show, Dishwasher Dreams, will come to life once again at Hartford Stage in Connecticut during its 2021-2022 season.
In Dishwasher Dreams, Alaudin, a stand-up comedian whose family hails from Bangladesh, is in LA on the verge of success when a family crisis forces him back to New York. Deferring his dreams while confronting his family history, he takes the audience on a moving and hilarious journey from colonial India in the 1930s to Spanish Harlem in the 1970s, and all the way to present-day Hollywood for his once-in-a-lifetime audition for a major film. Irreverently performed by Alaudin and accompanied by a tabla percussionist, this tour-de-force is an exploration of immigration, the Yankees, and the complex nature of the American Dream.
Hartford Stage, which will enter its 56th season this fall, is renowned for producing innovative revivals of classics, as well as provocative new plays and musicals.
The 2022 production of Dishwasher Dreams will be directed by Chay Yew and star Ullah. Yew previously directed the 2014 production of the play, and the 2022 production will be a creative reunion for the two. The show itself is inspired by the story of Ullah's father, Habib, and his personal story as "a steamship worker from the region of Noahkali, East Bengal, who jumped ship and made his way to New York's Lower East Side in the 1920s, settled in Harlem in the 1930s, worked for years as a dishwasher and line-cook in downtown restaurants, and for a time in the late 1940s ran one of the city's earliest Indian restaurants just off Broadway in Manhattan's theater district," as described on the Bengali Harlem website.
In Dishwasher Dreams, Ullah explores, through performance, his father's experiences as well as his own from growing up with his family in East Harlem's Washington Carver projects, as his father's generation of uptown Bengali immigrants died away and vanished from memory.
Ullah originally developed the project under the name Indio through the Joseph Papp Public Theater's Emerging Writers Group Program. Ullah was part of the program's inaugural 2010-11 cohort of writers. Castillo Theatre in New York presented the world premiere of Dishwasher Dreams in the fall of 2018.
Hartford Stage's Artistic Director Melia Bensussen asked Ullah in a recent interview if there was anything in particular he looked forward to about staging the 2022 production of the show. "It's just an honor to return to live performance," Ullah said. "For me as a performer, I really miss being in front of a live audience and that experience of sharing with an audience. I know Hartford [Stage] has an audience unique unto its own—their own community—which I'm really looking forward to."
While theatre has expanded into the realm of virtual performance due to the restrictions of the pandemic, Ullah described how necessary sharing a space with an audience in real time is to him and this show in particular.
"When I was a very young comedian, I met George Carlin," Ullah said. "He was such a hero of mine, and I remember he told me, years ago, that stand-up comedy is one of the few artforms that you need an audience to respond to. A comedian can't work without an audience, in order to hear the laughter. I know it sounds simplistic, but I really miss laughter and that response that is so much a part of theatre...as a comedian we're trained to wait for the laughs to go to the back of the room, come back to you, and then you start again. That hasn't happened to me in a long time. I really do miss that."
Another essential component of the show is the featured Tabla Accompanist. Ullah is particularly excited about the opportunity to share music as well as laughter with an audience again at Hartford Stage.
"I can't wait to be in front of a live audience again," Ullah said in his interview with Bensussen. "It gets me excited and inspired to know that there's an audience that we can connect with once again."
Alaudin Ullah was a trailblazer for the past two decades as one of the first South Asian comedians featured Nationally on HBO, MTV, BET, PBS, and Comedy Central. Limited by negative stereotypes, with little to no representation of his people, Ullah turned from acting to writing. As a member of the Public Theater's Inaugural Emerging writers group, he wrote plays about Harlem and Bangladesh. He workshopped and/or produced those writings at The Public Theater, New York Theater Workshop, Lark Play Development Center, Schomberg Center For Research In Black Culture, LAByrinth Theater Company, New Federal, Cape Cod Theater Fest, and in Chicago (at Silk Road and Victory Gardens). As an actor, he performed his solo show, Dishwasher Dreams, at New York's Castillo Theater (Fall 2018). In film, he co-starred in American Desi, and did several voices in the award-winning, animated Sita Sings the Blues. On television, he was featured in Uncle Morty's Dub Shack (IATV). Vivek Bald's book, Bengali Harlem, was inspired by Ullah's plays and his family's journey to America. He will be co-directing the documentary of the same name that will air next year on PBS. Ullah's ongoing dedication is to creating stories and characters that counter, challenge, and correct, the misperception of South Asians and Muslims.