'My Lord, What A Night' by Professor Deborah Brevoort Will Play At Ford's Theatre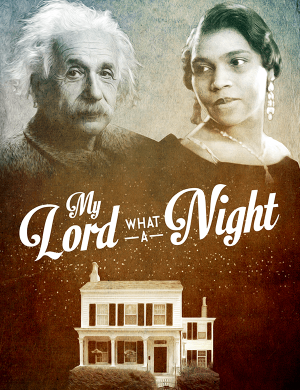 My Lord, What A Night, a new play by Adjunct Professor Deborah Brevoort will play Ford's Theatre in Washington, DC. Showing shortly after its  filmed performance at Orlando Shakes earlier this month, the upcoming presentation is a part of Ford's upcoming season. My Lord, What A Night was first presented in 2015 at Kean Premiere Stages in New Jersey.
Brevoort's play is based on true events and a true friendship between an influential artist and a game changing scientist. In My Lord, What A Night, Brevoort explores the friendship between Marian Anderson, an African American contralto singer and Albert Einstein, a German-born Jewish physicist and mathematician. In 1937, when Anderson is denied a hotel room based on the color of her skin, Einstein invites her to stay in his home. From there, a foreshadowing conversation about racial politics opens up as great minds gather over tea and Swiss chocolate.
Of the play, Brevoort shares "My Lord, What a Night not only gave me the chance to revisit a beloved book from my childhood, [Marian Anderson's autobiography, My Lord, What a Morning] it also enabled me to explore an issue that has since become quite personal. I am married to an African American man, who has been racially profiled by New Jersey police on five different occasions. Each time this happens the question of how to respond presents itself. Do we fight it? Or do we 'let it go?' We have done both on different occasions, but no matter how we choose, there is always a price to pay."
Deborah Brevoort is an award winning playwright and librettist from Alaska. She is an alumna of New Dramatists, one of the original company members of Perseverance Theatre in Juneau, Alaska and a co-founder of Theatre Without Borders, a group of individual artists dedicated to international theatre exchange. She is best known for her play The Women of Lockerbie, which won the Kennedy Center's Fund for New American Plays Award and the silver medal in the Onassis International Playwriting Competition. It was produced in London, Off Broadway at the New Group and WP Theatre, and in Los Angeles at the Actor's Gang. Brevoort serves as a mentor to the NBO Musical Theatre Initiative in Nairobi, Kenya, which is developing 12 new musicals by Kenyan composers and writers. NBO will culminate in the first-ever festival of new African musicals in 2022.
The upcoming staging at Ford's Theatre will be directed by Sheldon Epps, and stars Christopher Block as Einstein and Felicia Curry as Anderson. A sneak peak of the recent production at Orlando Shakes can be seen below. Performances will be announced at a later date.
Sneak Peek: My Lord, What a Night