'Everyone Knows Your Mother is a Witch' by Professor Rivka Galchen Makes Canada Reads Longlist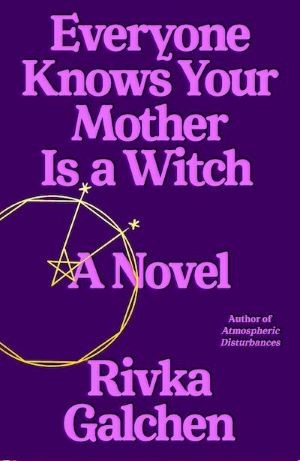 Everyone Knows Your Mother is a Witch by Assistant Professor Rivka Galchen recently made the longlist for Canada Reads.
Founded in 2002, Canada Reads is an annual televised event where five celebrities each champion a book and debate which should be chosen as the winner. This year's battle of the books will be hosted by actor and comedian Ali Hassan and broadcast on CBC Radio One, CBC TV, CBC Gem, and CBC Books.
The five celebrities and the shortlist of five books will be revealed on January 26, 2022. The debates will take place from March 28 to March 31, 2022.
Galchen's Everyone Knows Your Mother is a Witch takes place in 1618 Germany. The Thirty Years' War has begun, the plague is spreading, and in the small town of Leonberg, Ursula Reinbold accuses Katharina Kepler of being a witch. When Ursula claims Katharina's bitter, witchy drink has made her ill, Katharina finds herself in trouble.
Katharina, alongside her eldest son Johannes, who is the Imperial Mathematician and renowned author of the laws of planetary motion, must defend Katharina from financial ruin, torture, and even execution. Drawing from historical documents, Galchen writes a tale of imagination, sly humor, and intellectual fire.
Katie Yee for Litub calls the novel a "perfect combination of snark and the promise of magic…[Galchen's] writing always has teeth―this novel, culled from real-life historical documents but blessed with Galchen's invention and insight, does not disappoint."
According to author Francisco Goldman, "On every page of this brilliant, transporting novel are sentences of surreal poetry, of profound insight and enchanting observation, of Monty Python-like sublime nonsense and delightful fragments of fairy tale and lore…This is a novel to keep alongside your favorite Calvino or Ishiguro, though its special genius is pure Rivka Galchen."
Galchen is an award-winning fiction writer and journalist, whose work appears often in The New Yorker, Harper's, The London Review of Books, and The New York Times. She is the author of three books: Atmospheric Disturbances (FSG, 2008), American Innovations (FSG 2014) and Little Labors (New Directions, 2016). She has received numerous prizes and fellowships, including a Guggenheim Fellowship, a Rona Jaffe Fellowship, The Berlin Prize and The William J Saroyan International Prize in Fiction. In 2010, she was named to The New Yorker's list of 20 Writers Under 40. Galchen also holds an MD from Mount Sinai School of Medicine.