Docu-Play about the Pandemic Premieres with Alumna Janelle Caso '17 as Stage Manager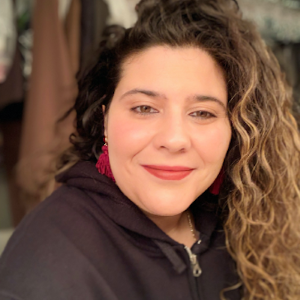 The Public Theater presented the world premiere of The Line, a docu-play stage managed by alumna Janelle Caso '17, via YouTube and on its website on July 8. 
Regarding her experience stage managing an online production and a physical one, Caso said the two are similar but also vastly different. "We have had to re-invent the wheel while still existing in said wheel. Things that are not normally a concern, like internet speed and actors' comfort levels with tech move to the top of the troubleshooting list. But the paperwork part of it is very similar. The same calendars and schedules went out and the approach was the same. In terms of something physical we had to create scripts that indicated muting and unmuting on Zoom for the actors and we equated this to blocking. I think the biggest difference is that so much is out of our control. We have to ask actors to be their own technicians and resolve their issues and all we can do is talk them through it."
Crafted from first hand interviews with New York City medical first responders during the COVID-19 pandemic, The Line is a documentary play that explores the lived experiences of frontline medical workers in New York as they battle to save lives in a system built to serve the bottom line.
"The Line was a great process because our company and the A/V team at the Public are truly amazing! We all knew it was trial by fire. It was definitely a learning curve when it came to technology and what we are actually able to do. I was able to call the show live from my mother's kitchen table because of technology," Caso said. "What stunned me the most is that we were never all in a room together but that magic company bonding happened. We laughed and enjoyed being in the Zoom room together. So theater is not dead - it's just redefining what and how it looks."
Janelle Caso graduated from Columbia in 2017 and has been working as an ASM & PSM off-Broadway at The Public Theater, Classic Stage Company and regionally for the past 3 years. Janelle has been stage managing for the past 12 year. She was a resident PSM and production manager for 5 years in Philadelphia before moving to NYC. Her credits include The Public: Shipwreck; Radio Play: The Line, Coal Country; Mobile Unit: The Tempest, Wild Goose Dreams, Mlima's Tale; Under the Radar Festival: Oedipus El Rey, Star Crossed; Broadway: Charlie and the Chocolate Factory, Noises Off; Off Broadway: Dance of Death; National tour: Evil Dead; Regional: A Midsummer Night's Dream, Hamlet, Othello, The Comedy of Errors, Frost/Nixon, RFK, American Sligo, Hurlyburly, Fiddler on the Roof, Gypsy, Philadelphia Orchestra Valentine's Day Concert. 
Conceived over 60 years ago as one of the nation's first nonprofit theaters, The Public has long operated on the principles that theater is an essential cultural force and that art and culture belong to everyone. The Public's wide breadth of programming includes an annual season of new work at its landmark home at Astor Place, Free Shakespeare in the Park at The Delacorte Theater in Central Park, the Mobile Unit touring throughout New York City's five boroughs, Public Forum, Under the Radar, Public Studio, Public Works, Public Shakespeare Initiative, and Joe's Pub. Since premiering HAIR in 1967, The Public continues to create the canon of American Theater and is currently represented on Broadway by the Tony Award-winning musical Hamilton by Lin-Manuel Miranda and Girl From the North Country. The Public has received 59 Tony Awards, 184 Obie Awards, 55 Drama Desk Awards, 58 Lortel Awards, 34 Outer Critic Circle Awards, 13 New York Drama Critics' Circle Awards, 53 AUDELCO Awards, 6 Antonyo Awards, and 6 Pulitzer Prizes.