Berkley to Publish 'The Paris Bookseller' by Kerri Maher '04 in January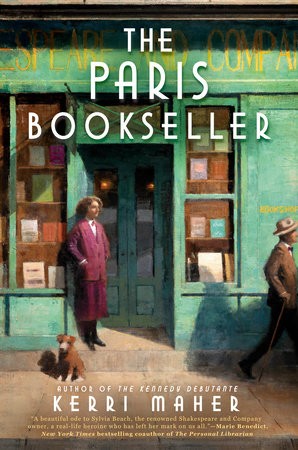 Berkley Imprint under Penguin Random House will publish The Paris Bookseller by Kerri Maher '04 on January 11, 2022. The book is now available for pre-order.
The Paris Bookseller, Maher's third novel, follows young American Sylvia Beach who opens Shakespeare and Company in Paris in 1919. Shakespeare and Company is not only a bookstore and lending library, but becomes a second home to many writers of the Lost Generation, including Ernest Hemingway. Also wandering the aisles are James Joyce, Ezra Pound, and Gertrude Stein. Eventually, Joyce and Beach form one of the most important literary friendships of the twentieth century.  When Joyce's novel Ulysses is banned, Beach decides to publish it under Shakespeare and Company. With the notoriety of publishing Ulysses, the Depression looming, and many of Beach's expatriate friends returning to America, Beach must reckon with what the bookstore means to her.
The Paris Bookseller has already received high praise. Author Fiona Davis wrote, "Maher's magical touch brings to life a woman whose struggles resonate in today's world, while also examining the intricacies of friendship, fortitude, and the love of the written word."
Author Steven Rowle also praised the novel: "Dazzling like Paris, rich and immersive like the work it celebrates, and bursting with heart and passion like every great bookstore, The Paris Bookseller is a dream for book lovers from start to finish."
Maher is also the author of The Girl in White Gloves, The Kennedy Debutante, and, under the name Kerri Majors, This Is Not a Writing Manual: Notes for the Young Writer in the Real World. She worked as a writing professor for many years. Maher now writes full-time and lives with her daughter and dog in Boston, Massachusetts.
An event celebrating the release of The Paris Bookseller will be held at the Jefferson market Library on February 2, 2022, which is also the 100th publication anniversary of Ulysses. Maher will be in conversation with Jane Appelgate, the producer of Left Bank, a documentary about the four women who helped bring Ulysses into the world. More information about the event will be coming soon.