Anita Abdinezhad '22 makes her Broadway debut in 'POTUS'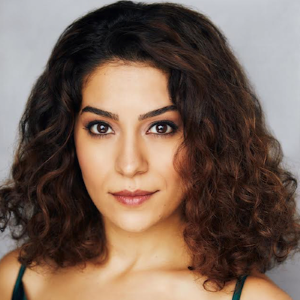 Acting student Anita Abdinezhad '22 will make her Broadway debut this spring in Selina Fillinger's new play, POTUS: Or, Behind Every Great Dumbass are Seven Women Trying to Keep Him Alive.
POTUS will be premiering at the Shubert Theatre under the direction of five-time Tony Award Winner Susan Stroman. The play was a 2019 selection for The Kilroys' List.
Abdinezhad joins a star-studded cast of women in this story about the President of the United States. When he unwittingly spins a PR nightmare into a global crisis, the seven brilliant and beleaguered women he relies upon most must risk life, liberty, and the pursuit of sanity to keep the commander-in-chief out of trouble. 
Previews will begin on Thursday, April 14, 2022, with an official Opening on April 27, 2022, for a limited engagement through Sunday, August 14, 2022.
When asked about the production, director Susan Stroman stated, "I could not be more excited to be headed to the Shubert Theatre this spring with Selina Fillinger and POTUS. Selina's wickedly funny satire questions how complicit we really are in the woes of the world—and what would happen if we simply stood back instead of continuing to empower the leaders who got us to where we are in the first place. Truly, it's an honor to work with her and this incredible cast of women. I am thrilled this comedy is part of Broadway's return—we all need to experience a good laugh right now."
Playwright Selina Fillinger also shared her thoughts, stating, "Growing up in Oregon, long before I could fathom working on Broadway, all I wanted was to glimpse it. To be premiering my play at the Shubert, with this extraordinary cast and the legendary director, Susan Stroman, is quite literally the stuff of dreams. I hope the show offers joy, folly, and the strength to keep fighting at a time when the world needs all three." 
Anita Abdinezhad is an actor and writer based in NYC. As a writer, her latest TV pilot, Fareeda's Phantasias, was a semifinalist at this past year's Sundance Episodic Lab.