Alumni Spotlight: Oliver Mayer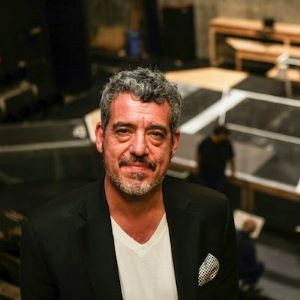 The Alumni Spotlight is a place to hear from the School of the Arts alumni community about their journeys as artists and creators.
Oliver Mayer is a playwright, poet, children's author and librettist, whose new opera 3 Paderewskis, composed by Jenni Brandon, received its world premiere at the Kennedy Center in November, 2020 and won The American Prize for opera composition. He is the author of more than 30 plays, including his ground-breaking Blade to the Heat and its long-awaited sequel Members Only. Other produced plays include Blood Match and Yerma in the Desert (inspired by the plays of Federico Garcia Lorca), Fortune is a Woman, The Wallowa Project, Dias y Flores, Dark Matters, Conjunto, Young Valiant, Joy of the Desolate, The Sinner from Toledo, Laws of Sympathy and Ragged Time. He is currently working with The Wallis Annenberg Performing Arts Center for the Performing Arts on his newest play The Dragon Tree. Oliver received his MFA in Playwriting from Columbia University in 1989, and his BA in English from Cornell University. He also attended Worcester College, Oxford.
Was there a specific faculty member or peer who especially inspired you while at the School of the Arts? If so, who and how?

My inspiration then and now remains the legendary Howard Stein, who ran the playwriting program and was the first permanent chair of the Hammerstein Center for Theatre Studies. He was my art father, although I certainly shared him with my other MFA colleagues. He knew more about plays than anyone I've ever met to this day, but he was anything but didactic: Rather, he was playful, curious and incredibly trusting of our voices as young playwrights. His style was passionate, rabbinical, and funnier than you'd have ever thought. He loved to teach. All the way until his death in 2012 at 90, I would call or see him and his incomparable wife Marianne at their home in Connecticut whenever I was on the East Coast. And whenever I needed advice about a play or about being a professor, he was always there for me. I hear his voice in my head often, loud and impassioned, reminding me that "plays are as much caught as taught." Stuff like that.
How did attending the School of the Arts impact your work and career as an artist?

My MFA at Columbia had everything to do with my career's ups and downs, not to mention longevity — both as a playwright and as a teacher of playwrights. Upon graduating I found work almost immediately as an associate literary manager at the Mark Taper Forum under Gordon Davidson in what might now be termed a Golden Era. While writing my own new plays, I was able to watch Maria Irene Fornes, Terrence McNally, Luis Valdez and a host of others work on new plays. Tony Kushner developed Angels in America nearly from the ground up — sometimes literally bashing out dialogue on his laptop at the desk across from me in the literary office. When it was finally my time to hit the main stage with Blade to the Heat, I felt like I deserved to be there. But the values that Howard passed along to me regarding dramatic writing could make things difficult, particularly in the world of TV and film, where I never really felt at home. The single greatest impact of the MFA was that, no matter where I have been in my career, I have been able to write — to actively question the world around me and within me. Columbia gave me my vocation.
What were the most pressing social/political issues on the minds of the students when you were here? 
Columbia School of the Arts was not the same in the mid 1980s as it is now! The building itself, though beautiful, was falling in upon itself. We did a lot of our stage work at Teacher's College, because our spaces were falling apart. I was the only Mexican American I remember seeing in the halls, but compared to Yale and other programs of the time, we were a pretty diverse group of writers — and we had a lot of injustice to address. Then, and now, the main goal was to get our voices out on the page and eventually the stage. Reagan was finishing up his second term, so a lot of us had reasons to demonstrate and demand to be heard. Collectively, AIDS was our biggest question and fear, and of course at the time there was a lot of mystery and confusion around the subject. But we always had something to write about.
What was your favorite or most memorable class while at the School of the Arts?
I loved any class with Howard Stein, even though we often met in the morning when most of us students were blear-eyed from the night before. I had a love/hate relationship with Albert Innaurato, who also taught us, and who could very cruel with his feedback. Even when Howard was critical, he was never cruel. It was all love.
What were the first steps you took after graduating? 
It wasn't easy to write on my own, after my three years in the cocoon of my Columbia MFA. But when I finally found my feet, I realized that I had a foundation under me, an education and knowledge of plays that held me up. Playwrights living and dead were like beacons of light in the darkness. I knew that being a playwright was the single coolest thing in the world that I could be.
What advice would you give to recent graduates? 

Take your shoes off and root yourself into the earth when you breathe. Be who you really are, particularly when you write. Don't ask your work to make the rent (at least not right away); let it all be worth more than money. Our vocation is worth a price above rubies.
How are you handling the challenges or difficulty of sheltering in place during the pandemic?
In comparison to my wife, who is a working actress and has to wait for the all-clear before she can resume work, I have had it relatively easy during our pandemic. Besides teaching my students on an online platform, I have been writing like a fiend -- a libretto to a new opera, several commissions. My mind wanders to questions about how we will present our work in what appears to be the new normal of social distancing. Maybe we will do it differently now, opening up a whole new set of expectations. None of us will forget this year and its challenges, but at least we are all doing it together. Reminds me of a play....