Alumni Spotlight: Jakob Guanzon '19
The Alumni Spotlight is a place to hear from the School of the Arts alumni community about their journeys as artists and creators.
December 17, 2021
Jakob Guanzon is the author of Abundance, which was longlisted for the 2021 National Book Award. His writing has been nominated twice for the Pushcart Prize, and appeared in The New York Times Book Review, Split Lip Magazine, Breakwater Review, and elsewhere. He lived in Madrid, Spain for the first half of his twenties before moving to New York to attend the School of the Arts. He now lives in Harlem, and is working on his second novel.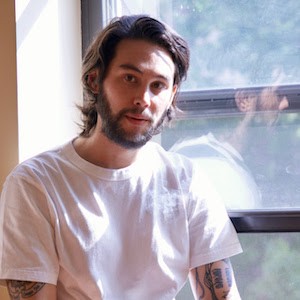 Was there a specific faculty member or peer who especially inspired you while at the School of the Arts? If so, who and how?

Jakob Guanzon [JG]: For us fiction geeks, the friendship of a poet is invaluable. They keep us both inspired and in check, and Mat Huey '17 did just that for me during my time at the School of the Arts. Like me, he was a midwestern boy, but, very unlike me, he wasn't afraid to own it. His poetry was so honest, so grounded in the grit and solemn sense of obsolescence in middle America that I came out of each poem feeling as if I had to shake gravel out of my sneakers. In many ways, Mat showed me how to charge my prose with the meticulously curated details and rhythmic sensibility of a poet. That's not to say I can pull it off quite like him, but I'm ever grateful to him for at least pointing me in the right direction.

How did attending the School of the Arts impact your work and career as an artist?

JG: Beyond the craft and connections that made my career possible, attending the School of the Arts enabled me to regard writing as a worthwhile pursuit, perhaps even as a legitimate career. Where I grew up, art tends to get dismissed as some bourgeois folly, a hobby but never a job, which made my decision to pursue an MFA feel audacious, self-indulgent. However, once I'd settled into my first semester, my reservations dissolved. For the first time in my life I was immersed in a community of students who were shameless about their creativity, brazen about their literary ardor. What's more, not only did I find myself sitting face to face with famous writers whose works had given me shivers from afar, but a few even knew my name, were in fact reading my cheeky drivel. It was mind-boggling, which just goes to show how meaningful a sense of belonging can be.  

What were the most pressing social/political issues on the minds of the students when you were here?

JG: On the morning of November 11, 2016, I was running late to class. When I finally did step into the classroom, I was met by two dozen graduate students, every single one of whom was weeping. I'd watched the election results come in alone the previous night. It was oddly comforting to see others express so openly a part of what I felt inside. Our professor, Lara Vapnyar, had grown up in Russia, under the same sort of authoritarian regime toward which we students feared our own nation was headed. She permitted another five or so minutes of catharsis, then said that was enough. "Yes, yes, I know this is bad, but tomorrow?" she said. "Tomorrow you will eat." She assured us that next month we would probably be able to eat, too. She then proceeded to discuss the role of the artist as a witness, as a truth-teller, as a questioner of illegitimate authorities. I was too dazed to remember much else. Regardless, recalling the mere gist of her impromptu speech that morning still manages to recenter me whenever I find myself doubting the practical utility of art in a world full of suffering.

What was your favorite or most memorable class while at the School of the Arts?

JG: In the acknowledgments of Abundance, I thanked Ben Metcalf for having taught me—then a 27-year-old master's candidate—how to read. This is not hyperbole. His lecture "An Earnest Look at Irony" and later his guidance throughout our thesis workshop totally upturned the way I interact with texts, regarding them now as dynamic exchanges between a writer and reader, rather than as static, one-sided communiques. It remains a jarring development. Considering how many hours I've since lost to poring over single clauses and etymological histories that I would have otherwise skimmed past, I don't know whether to thank or curse the man, but there's no denying how impactful his lessons have been to my life and work.

What were the first steps you took after graduating?

JG: First and foremost, I went looking for a full-time job. As hungry as I was to get my first book published, yet another year of living off bananas and leftover bagels from the faculty office didn't seem too sustainable. Plus, I would've felt creepy sneaking into Dodge after graduation. It took three months till I landed a highly unsexy gig as a website copyeditor, but a steady paycheck nevertheless kept me nourished and sheltered as I got back to the fiction work I actually cared about.

What advice would you give to recent graduates?

JG: Patience. Without the structure or encouragement you get used to as a student, it takes time to establish your own routine of work, writing, and occasionally living a little, too. After I'd gotten universally rejected by everyone at the agent's mixer, I graduated raring to prove those naysayers wrong, but, truth be told, they were right. My work needed work. It wasn't ready, and probably would've resulted in even more humiliation if it had ever been put to public scrutiny so prematurely. Let yourself fall in love with the act of writing in itself, all over again yet all alone this time. Don't get jealous or resentful when your former classmates beat you to publications or prizes, but instead cheer them on, and help others realize their aspirations, too. As gratifying and bewildering as it is to see your book displayed in your favorite shop, the sense of accomplishment comes with an anticlimactic undercurrent. Neither acclaim nor criticism alter your quotidian reality. What does—and for the better—is to be patient and present. That may sound hokey, but that's the sort of advice that would have helped me a couple years ago.