Alumni Spotlight: Adam Levy and Ashley Nelson Levy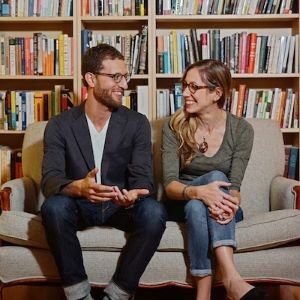 The Alumni Spotlight is a place to hear from the School of the Arts alumni community about their journeys as artists and creators.
Adam Z. Levy '12 is the co-publisher of Transit Books, and the translator of The Book of Mordechai by Gábor Schein.
Ashley Nelson Levy '12's debut novel, Immediate Family, is forthcoming from FSG (US) and Daunt Books (UK). Her work has been a Notable Mention in Best Nonrequired Reading and she's the recipient of the Bambi Holmes Award for Emerging Writers. She received her MFA from Columbia University, where she was a Clein/Lemann Fellow. In 2015, she co-founded Transit Books, an independent publishing house with a focus on international literature.
Was there a specific faculty member or peer who especially inspired you while at the School of the Arts? If so, who and how?

Adam: I took a translation workshop with Susan Bernofsky, right around the time Columbia's translation program began. I was always a big reader of translated literature and had tried out translating a few stories, but can't say that I appreciated the way translation worked before Susan's class. She changed the way I approached a text and the questions I'd ask myself at the level of the sentence or the word in order to re-effect what was happening in one language in another. The choices translators make are often overlooked or taken for granted or mercilessly picked apart, but I'm grateful to Susan for making the translator's work visible and introducing me to its rigorous art.

Ashley: Studying with Ed Park really changed me as a reader, widening my understanding of what a book can be. I still talk wildly to anyone who will listen about most of the books on his syllabus—writers like Agota Kristof, Russell H. Greenan, Russell Hoban, B.S. Johnson, Rachel Ingalls. I could go on and on. It flipped a kind of switch that I feel now as an editor when I come across something special in a submission. And as a writer I think it encouraged me to be riskier, or at least not to shy away from that impulse.
How did attending the School of the Arts impact your work and career as an artist?

Adam: Ashley and I founded Transit Books in 2015 to publish exciting, boundary-pushing fiction and nonfiction from around the world. Our time at Columbia was formative for both of us. It's where we met and where I also had the opportunity to study with the great Hungarian translator Ivan Sanders. We spent the years after working in publishing New York, teaching, writing, and translating. It's all contributed to way we think about the press and about bridging the conversation between readers of domestic and international literature. 
What advice would you give to recent graduates? 

Ashley: I think I had the wrong ideas about achievement right after I left the program. I remember someone telling me that all the successful graduates had a book out within three years of graduating, and for a short and unhappy period I tried to hold myself to that standard. In time I somehow figured out how to let that arbitrary number go, I learned about the business of publishing, I held a full-time job, and I kept writing. My first book will be published next year, ten years after finishing my coursework. Which is to say: in the end I'm glad I took the time it required.
ABOUT TRANSIT
Transit Books is a nonprofit publisher of international and American literature, based in Oakland, California. Founded in 2015, Transit Books is committed to the discovery and promotion of enduring works that carry readers across borders and communities.

Transit Books publishes a carefully curated list (6-8 titles per year) of award-winning literary fiction, narrative nonfiction, essay, and prose that falls somewhere in between. Transit authors have received or been nominated for the National Book Critics Circle Award, the Booker International Prize, the National Translation Award, the Windham-Campbell Prize, and more.