Alumna Kate Greene '20 Releases Debut Memoir 'Once Upon a Time I Lived on Mars'
Once Upon a Time I Lived on Mars by alumna Kate Greene '20 is a memoir about Greene's time living in the Hawaii Space Exploration Analog and Simulation (HI-SEAS), a long-duration Mars exploration analog study run by the University of Hawaii and funded by NASA. There, Greene served as the mission's second-in-command.

Her book of essays has received impressive praise from literary critics and science reviews alike. Greene, who is already well-established in both circles for her work as a science journalist and a poet, has earned an unofficial science-poetry ambassadorship. Her interviews with NPR, Mashable, CBC and essays for Aeon, the Atlantic, all share the quality of being a generous, gracious, and enthusiastic observer.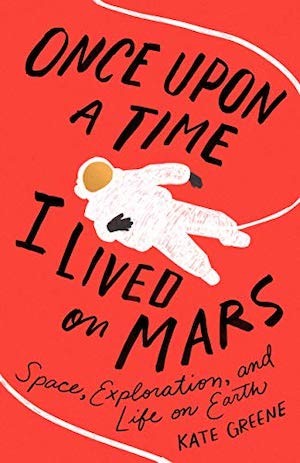 An interview with fellow alumna Jacquelyn Marie Gallo '19 for Brooklyn Rail reveals that Greene "[thinks] information delivery has a lot to do with how I became a writer. When a poet writes a novel or prose book, and you're like, 'this is such a different novel, I wonder why?' It's because if the author is really a poet, they make weird moves, they bring that sort of poetic sensibility to it. The sensibility I was bringing was as an explanatory journalist. I have many years of experience writing about science and technology in a way that, I hope, is understandable. And when you write about complex topics, one of the biggest challenges is to not have people stop reading. If an explanation gets too dense, most people peace out."
Dawn Lowe-Wincentsen of Library Journal writes, "VERDICT. This engaging account will interest sf lovers, scientists, and dreamers who see the red planet in the night sky and wonder, what if."

Publishers Weekly praises Greene's "wonderment and awe," calling the memoir "eloquent...equal parts escape and comfort."

Booklist describes Once Upon a Time I Lived on Mars as a book in which "Greene uses her experience in HI-SEAS as the basis for 12 essays exploring...questions about who gets to be an astronaut and why, how extreme circumstances alter our perceptions of time and space, the ethics of human research, the complicated relationship between public and private efforts to explore space, and the personal aftermath of such endeavors. She addresses them with wit, insight, compassion, and, ultimately, hope."

Science Factory adds that Once Upon a Time I Lived on Mars is a "thought-provoking examination of our time in space right now, as a pre-Mars species, poised on the edge, readying for launch."

Greene is a poet, essayist, and former laser physicist whose work has appeared in Aeon, the Atlantic, Discover, The Economist, Harvard Review, the New Yorker, Pacific Standard, Slate, and WIRED, among others. Her essays have been featured on NPR's All Things Considered and Wait Wait…Don't Tell Me!, CBS News Radio, and the BBC World Service. She has taught writing at Vanderbilt University, San Francisco State University, and the Tennessee Prison for Women. She currently lives in New York City where she is a teaching fellow at Columbia University.

An excerpt of Once Upon a Time I Lived on Mars is available here, and it is available for purchase on Bookshop.org.

Future appearances are listed on Greene's website; her next talk will be a virtual reading and conversation with Green Apple Books on July 21, at 8 p.m.