Alumna E. J. Koh '13 Co-Translates Yi Won's 'The World's Lightest Motorcycle'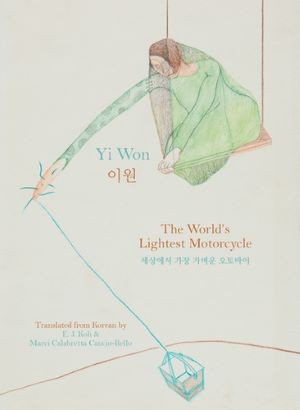 The World's Lightest Motorcycle, a collection of poems by Yi Won and co-translated by alumna E.J. Koh '13 and Marci Calabretta Cancio-Bello, is now available from Zephyr Press.
Translated from the Korean, The World's Lightest Motorcycle examines human identity in the face of a high-tech, wired world. Through avant-garde prose poems and lyrical free verse, Yi Won confronts isolation, loneliness, death, and the passage of time, upending and subverting polite society and Korean literary culture in the process. Don Mee Choi writes of the collection, "Yi Won's highly inventive poetry creates a new surreal terrain in which bodies and everyday objects, capitalist commodities, exist side by side and interact, often violently. E. J. Koh and Marci Calabretta Cancio-Bello, two brilliant Korean American poets, have invented astonishing language for Yi Won's subversive poetry."
Koh's memoir The Magical Language of Others (Tin House Books, 2020) won the Pacific Northwest Booksellers Association Award and the 2021 Washington State Book Award for biography/memoir, and was longlisted for the PEN Open Book Award. The memoir includes translated letters from her mother during their seven-year separation when Koh was 15. In an interview with Asymptote Journal, Koh discusses "loving translation for its living, organic nature... Translators, like poets, as time mechanics. Residing in undecidability. Creating pathways to unsettled truths between countries. Not to pin down and narrowly determine but to reveal a new sense, broadening our understanding through loving perception. To translate war and wounding, to translate how we have died and how we could remain alive."
E. J. Koh is the author of the poetry collection A Lesser Love (Louisiana State University Press, 2017), winner of the Pleiades Press Editors Prize for Poetry, and the memoir The Magical Language of Others (Tin House Books, 2020). Her poems, translations, and stories have appeared in Academy of American Poets, Boston Review, Los Angeles Review of Books, Slate, and World Literature Today. Koh is the recipient of Prairie Schooner's Virginia Faulkner Award for Excellence in Writing and fellowships from the American Literary Translators Association, Kundiman, MacDowell, Vermont Studio Center, among others. Koh earned her MFA in Writing and Literary Translation at Columbia and is completing her PhD in English Language and Literature at the University of Washington in Seattle.