Alumna Daphne Palasi Andreades '19 Named 2021 Sidney Harman Writing Fellow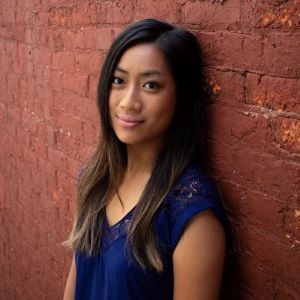 Baruch College recently announced that alumna Daphne Palasi Andreades '19 will serve as its Spring 2021 Sidney Harman Writing Fellow. Andreades, who received her BA from Baruch and herself participated in the workshops associated with the Harman Writer-in-Residence program, is only the second Baruch graduate to be invited back as an instructor. 
Andreades, who recently signed a two-book deal with Random House for her debut novel, Brown Girls, and a forthcoming novel, is "just thrilled about the opportunity." 
"When they reached out to me about participating," she said, "I remembered all that I had learned from the program and how formative it had been...So it was an automatic 'yes.' It just feels so right to come back and give back."
The Harman Writing Fellow Program, which was launched in the Spring of 2014, is part of the larger Sidney Harman Writer-in-Residence program founded in 1998. While the Writer-in-Residence program invites distinguished writers to Baruch College to teach small, intensive workshops, the Writing Fellow Program focuses on bringing "acclaimed emerging authors, poets, and journalists...to conduct a writing workshop with members of Encounters Magazine, Baruch's literary and arts magazine, and other interested students." 
As part of the program, Andreades will also address Baruch students, faculty, staff, and alumni at a Zoom event on April 22nd, where she "looks forward to sharing her story and insight with the Baruch community and hopes she, and her forthcoming novel, can inspire students the same way she was inspired just a few years ago." 
Daphne Palasi Andreades was awarded the 2018 Henfield Prize and a Creative Writing Teaching Fellowship while at Columbia University. Her work has received support from institutions such as the Bread Loaf Writers' Conference, the Sewanee Writers' Conference, Martha's Vineyard Institute for Creative Writing, where she won the 2018 Voice of Color Prize, and other honors. Her fiction explores diaspora, immigration, and the far-reaching effects of colonialism and imperialism. She currently lives in Brooklyn.