Theatre Student A.A. Brenner Receives the 2021 Jody Falco and Jeffrey Steinman Award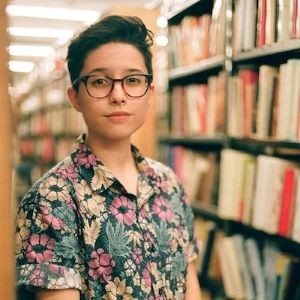 Playwriting student A.A. Brenner has received the inaugural 2021 Jody Falco and Jeffrey Steinman Award, which comes with a $5,000 prize. Brenner was selected for the award after being named a finalist for the 2020—22 Apothetae and Lark Playwriting Fellowship, which offers a Deaf/Disabled writer a two-year residency; a cash award of $40,000; $5,000 for projected-related expenses; and $10,000 for production enhancement. Drewcella Davis was awarded the Fellowship. Nikki Brake-Sillá also received the Jody Falco and Jeffrey Steinman Award. 
The Apothetae is a theatre company committed to the production of works that explore and illuminate the "Disabled Experience." The company produces newly commissioned works by both established and emerging playwrights as well as pre-existing, canonical plays that feature characters with disabilities or grapple with disabled themes. "By making visible the human impact of disabled people throughout history, we believe empathy can be practiced, perceptions changed and new communities forged through the collaborative and transformative power of the artistic process" (The Apothetae's mission statement). 
The Lark is a New York City-based international theatre laboratory "dedicated to supporting extraordinary playwrights and stories that reflect the vibrancy and complexity of our world." The laboratory gives writers the funding, space, collaborators, audiences, professional connections, and freedom necessary to cultivate creativity. 
In an interview with BroadwayWorld, The Lark's Roundtable and Casting Director Krista Williams commended Brenner's talent and insight. "Finalist A.A. Brenner's writing brings an irreverent, canny eye to the ecosystems of identity and society, and politics and art."
Brenner's "writing blends naturalistic dialogue with heightened realism to explore queer, Jewish, and disability themes, challenging both societal power structures and theatrical form," according to the artist's webpage. Their plays have been produced or commissioned by La Jolla Playhouse, National Disability Theatre, CO/LAB Theatre Group, Shakespeare Theatre Company (Fellows Consortium), Three Muses Theatre Company, Young Playwrights Inc., The Schwartz Center for the Performing Arts, Columbia University, and The Hangar Theatre Lab Company. Their play Emily Driver's Great Race Through Time and Space, co-written by Gregg Mozgala, was included on the 2020 Kilroys List.