'It Doesn't Have to Be Awkward' by Alumna Paulina Pinsky '18 Out in September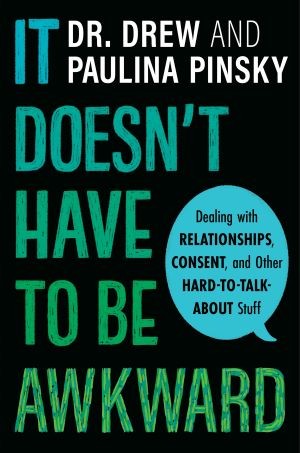 It Doesn't Have to Be Awkward: Dealing with Relationships, Consent, and Other Hard-to-Talk-About Stuff (Clarion Books, 2021) by alumna Paulina Pinsky '18 and her father, the renowned celebrity M.D. Dr. Drew Pinsky, is available for pre-order and will be released on September 21, 2021.
Joining the shelves of young adult nonfiction, It Doesn't Have to Be Awkward serves as an important guide for teenagers, educators, and parents to facilitate meaningful and positive discussions around identity, friendships and relationships. The father and daughter writing duo tackle challenging topics regarding teenage social life, such as sex, consent, toxic friendships, bullies, and personal identity formation. The book also includes quizzes with scenarios involving fictional characters, and information for LGBTQIA+ teens and teens of color.
In an interview released by the publisher, Pinsky stated, "Ultimately, the project was to take consent out of an intimate context and put it into the interpersonal context: talking about consent as a constant negotiation that is founded in knowing yourself and knowing others."
Booklist praised It Doesn't Have to Be Awkward in a starred review, saying, "Using a combination of straightforward language, relatable examples, and realistic expectations, [the Pinskys have] created a user-friendly guide based on the principles of TCB: trust, compassion, and boundaries."
School Library Journal also highlighted the book's accessible language, calling it "a useful manual for navigating relationships with friends and classmates, as well as grappling with one's own identity," and noted the book's "sensitivity and compassion."
It Doesn't Have to Be Awkward is available for preorder now.
Paulina Pinsky teaches comedy writing to high schoolers at Columbia University. She writes about female sexuality, feminism, and the discomfort of living. Pinsky holds an MFA from Columbia University and lives in Brooklyn, New York, with her tuxedo cat, Jack. You can find her on all social platforms @mizpiggy111 or at paulinapinsky.com.
Dr. Drew Pinsky is the host of a variety of popular podcasts including the Dr. Drew Podcast, Dr. Drew After Dark, and a live streaming show called #AskDrDrew where he answers audience questions in real time. In addition, Dr. Drew hosts the hit MTV reality television series Teen Mom OG and Teen Mom 2 reunion specials. He lives in Pasadena, California.