'The Lady's Handbook for Her Mysterious Illness' Memoir by Alumna Sarah Ramey '07 Published This Month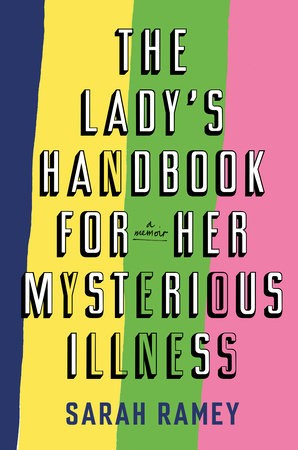 A baffling illness led alumna Sarah Ramey '07 into a near two-decade-long medical odyssey constantly frustrated by physicians who did not recognize her symptoms. Too often they were ready to dismiss her complaints as being in her head rather than her body, a prevalent and unfortunate prejudice of the medical establishment towards female patients. The Lady's Handbook for Her Mysterious Illness, is described by Goodreads as "a page-turning medical mystery that reveals a new understanding of today's illnesses."
In her senior year as an undergraduate student at Bowdoin College, Ramey began suffering from pains in her abdomen, pelvis and spine, accompanied by immobilizing fatigue. There were days when she found it difficult to walk. The Washington, DC area native, a daughter of doctors, suspected this might be some form of autoimmune disease; neither her parents nor the physicians she consulted with were able to specifically diagnose what it was.
"I thought I was the strangest medical case on the East Coast," she writes, going on to say that her challenging "health was a trickster, a shape shifter, a shroud, a mist."  Without a definitive diagnosis, she underwent unnecessary surgery, and consulted with over 100 doctors who all misdiagnosed her condition and were often too ready to prescribe antidepressants, frequently misjudging it as female-related hypochondria.  Ramey has transformed this grim narrative into what Publishers Weekly applauds as her "hilarious and upbeat sense of humor [that] lightens even the direst of circumstances." For instance, she wittily skewers her multitudinous physicians with monikers such as Dr. Oops (the one who performed the wrong surgery), Dr. Vulva, Dr. Paxil, and Dr. Bowels.
Rising above her vexing experiences, Ramey investigated the larger picture of how millions of women with conditions like chronic fatigue, fibromyalgia, chronic Lyme disease, and other illnesses are marginalized. "A revelation and inspiration for millions of women whose legitimate health complaints are ignored," declared Goodreads.
The breakthrough came for Ramey when her mother launched her own investigation and discovered in her daughter's records that one particular blood test had not been properly analyzed. When it was, it revealed that Ramey suffered from complex regional pain syndrome, an inflammatory disease for which there was treatment. A successful pop vocalist and songwriter, who performs under the name of Wolf Larsen (her grandfather's name), Ramey has since taken a more holistic approach to her health, conscious of nutrition, exercise, acupuncture, medical marijuana and psychic self-healing. 
"A visceral, scathing, erudite read," declared Booklist Online, adding that it "digs deep into how modern medicine continues to fail women and what can be done about it." While working on the book, Ramey received a prestigious Whiting Award in 2018. The judges hailed her work of nonfiction for "its dexterity of imagination and distinctive voice," predicting that it would "spark a literary discussion about the role wit, play and irreverence can have in narratives of sickness and recovery."
The book is available online with your local independent bookseller or bookshop.org.