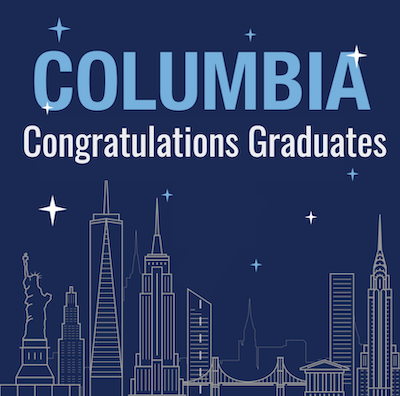 Regalia:
Regalia is required for University Commencement. It is optional for the School of the Arts Convocation. Master degree recipients wear a cap and gown (no hood) and may purchase their regalia online or in-store. Orders must be placed no later than April 29.
Columbia's COVID-19 Policy:
Columbia University is committed to protecting the health and safety of its community. Effective May 11, 2023, graduates, visiting alumni, and guests attending Commencement activities on Columbia's campuses are strongly recommended to follow CDC guidelines for COVID-19 vaccination and community guidance on indoor masking. Attendees will not be required to attest, show proof of vaccination status or recent test results, however, are encouraged to stay home if feeling unwell or testing positive for COVID-19. 
Please visit Columbia University's Hub for Emergency Preparedness for the latest health and safety policies.
Visas for Family and Friends of Graduates:
Please see this guide from the International Students and Scholars Office for instructions on how to apply for visas for guests of graduates.
Parking and Directions:
There are a number of considerations to take into account when traveling to campus during commencement week. Please see this page for more instructions.
Columbia University Commencement:
Please visit the Columbia University Commencement hub for a host of information regarding the university-wide ceremony for all graduates.
Updating Your Address:
Diplomas will be sent to the Diploma Address in SSOL. All graduates should log in to their account and confirm that the correct address is listed.
Joining the Alumni Community:
Graduates will receive a welcome email with information on how to stay connected with the School of the Arts, with the larger Columbia Alumni Community, and more!
If you have questions, please contact [email protected].